Going Global with the True Meaning of Aloha -- China Screening Tour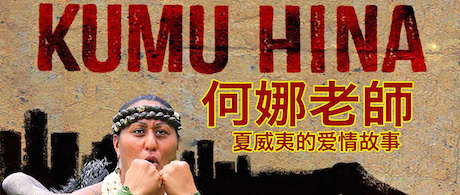 Greetings Friends,
This week, we're heading off to China for a series of KUMU HINA events organized by local activists seeking to advance the country's emerging movement for understanding and acceptance of transgender and gender fluid people.
We'll be visiting Hong Kong, Guangzhou, and Beijing, where Hina's presence at the screenings, and her desire to make deeper connections with her Chinese heritage, is sure to heighten the experience for audiences in powerfully moving ways.

As Hina put it: "My Chinese grandmother has been one of the greatest influences in my life. But I've never had a chance to visit her ancestral home. I hope our film tour will do honor to the family name, and help Chinese viewers understand and embrace a message from my other homeland, about the true meaning of aloha - love, honor, and respect for all."

If you can't make it to China with us, there are lots of other screenings coming up.
You can check out the full list of events and get all the details on the screenings tab.

Here are a few of the highlights just in case you're in the neighborhood:
Sept. 12-Austin, TX;  Sept. 12-Fargo, ND;  Sept. 13-Beacon, NY;  Sept. 17-Honolulu, HI;  Sept. 19-Geneva, Switzerland;  Sept. 20-Palm Springs, CA;  Sept. 21-Chicago, IL;  Sept. 25-Hagatna, Guam;  Sept. 27-Eau Claire, WI;  Oct. 3-Caracas, Venezuela;  Oct. 4-Tampa, FL;  Oct. 6-Oaxaca, Mexico;  Oct. 9-Seattle, WA;  Oct. 9-Rochester, NY;  Oct. 18-Kyoto, Japan;  Oct. 18-Hamburg, Germany;  Oct. 21-Hannover, Germany;  Oct. 25-Lewisburg, WV;  Nov. 9-San Diego, CA;  Nov. 9-Juarez, Mexico;  Nov. 11-Los Angeles, CA;  Nov. 22-Philadelphia, PA;  Dec. 10-New York, NY
If you don't see anything near you on this list, KUMU HINA will soon be available on GATHR, an awesome new theatrical-on-demand service that enables people to bring the movie that they want to see to a theater in their community.

In the meantime, we look forward to sharing these and other journeys with you as we work together toward some better world.

Thanks for staying tuned,

Joe Wilson & Dean Hamer
Co-Producers/Directors