"Gay-bashing Oregon City Councilor Convicted of Possessing Child Porn" ~ East Oregonian

COUNCILOR LOU NAKAPALAU LEAVES MEETING AFTER BEING ASKED ABOUT CRIMINAL RECORD
The Echo City Council adopted a code of ethics and social media policy Thursday.
By Jade McDowell, December 14, 2017:
The Echo City Council adopted a code of ethics and social media policy on Thursday night, but Councilor Lou Nakapalau was not there to cast his vote after being confronted before the meeting by a member of the media about documents showing he had previously been convicted of possessing child pornography.
Pam Reese, an Echo business owner, said Nakapalau showed up early to the VFW hall where the meeting was being held, but walked out without a word after a reporter from KVEW-TV in the Tri-Cities asked him about the documents.
Reese has been a vocal opponent of Nakapalau since October, after the Echo councilor told Joe Wilson, a gay filmmaker from Hawaii, that he would spit on Wilson's grave after he died of AIDS and called Wilson an anti-gay slur on Facebook.
According to court documents obtained from Clark County, Washington, by the East Oregonian on Thursday morning, Nakapalau was found guilty in 2000 of nine felony counts of possessing "a depiction of a minor engaged in sexually explicit conduct." Sentencing records state he was sentenced to 60 days custody in the county jail (52 served on work release) and was not allowed to possess a personal computer during his post-incarceration supervision. Another document states that in 2007 it was ordered that "the defendant's civil rights lost by operation of law upon conviction be hereby restored."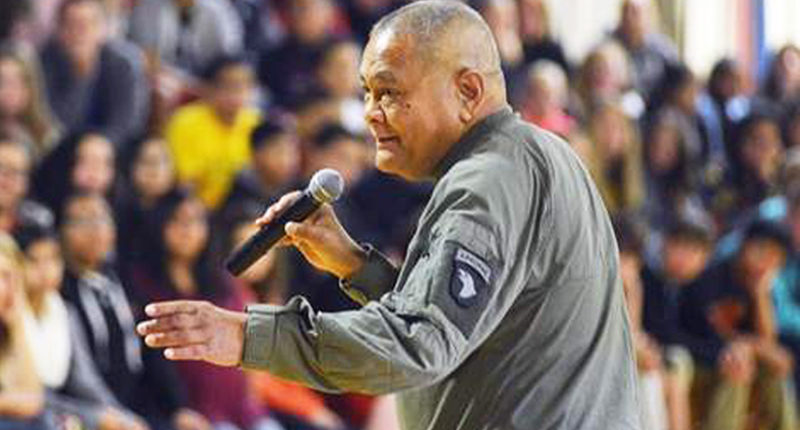 Nakapalau was sworn in to the Echo city council in January after earning eight write-in votes for an empty seat. He spoke at Stanfield Secondary School's assembly the week of Veteran's Day as an Army veteran from the Vietnam War.
Nakapalau did not return a phone message left Thursday night and has not responded to previous attempts by the East Oregonian to reach him after his comments to Wilson. After those comments came to light, he attended a city council meeting on Oct. 19 in which Councilor Robert Harris asked that the council make a public apology for Nakapalau's words and work on adopting a social media policy.
Nakapalau did not comment during the meeting. The city issued a public apology afterward referencing "comments made by a councilor in a Facebook dialog" and stating that the city did not endorse discrimination or disparaging remarks against someone based on their sexual orientation, race, etc.
An ethics policy and a social media policy were both unanimously adopted by the Echo city council on Thursday night. The social media policy tells councilors and staff that they are "solely responsible for what you post online."
"Posting inappropriate remarks about co-workers, council members or members of the public, which may be viewed as discriminatory, harassing, bullying, malicious, obscene, threatening violence, intimidating, comments meant to intentionally harm someone's reputation, retaliation to what you preserve (sic) to be another's negative post, and similar inappropriate or unlawful conduct as a representative of the City of Echo will not be tolerated and may be subject to disciplinary action up to or including dismissal if you are a city Employee," the policy reads.
It also asks people to be mature, fair and accurate in their posts.
Both city administrator Diane Berry and city attorney Bill Kuhn stressed that it was only city employees, not public officials, that could be removed from their position with the city if they violate the policy.
"The only recourse for removing a council member is through the recall process," Berry said. "Oregon does not have an impeachment process for local officials."
The ethics policy covers Oregon law about conflicts of interest and other issues, and asks that councilors realize their actions affect the city, possibly for years or generations to come. It also asks them to be aware of how their conversations and appearance outside of council meetings reflects on the city.
"Do not speak for the council to citizens or the press unless you have been given that duty or responsibility specifically by the council as a whole through a council motion," the policy states. "The council is a body and you as a council member have no power or jurisdiction outside the body unless specifically given by the council."