"Policy on Transgender Students Urged" - Honolulu Star-Advertiser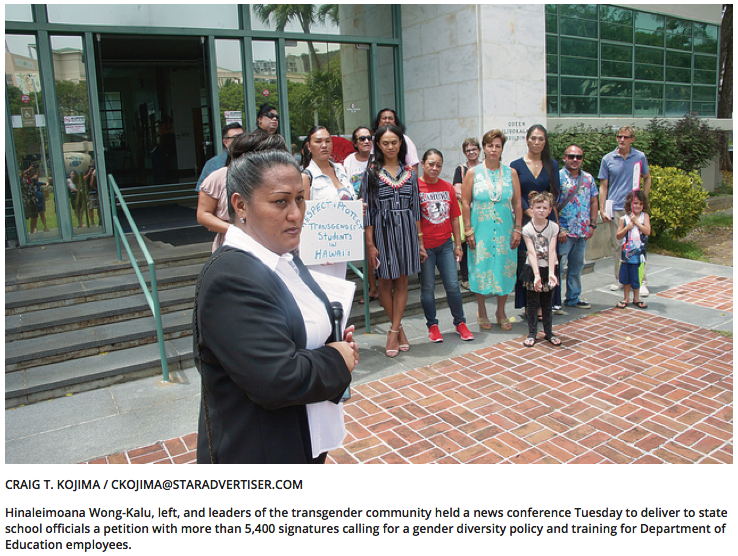 By Nanea Kalani - May 4, 2016
Local transgender community leaders and supporters are calling on education officials to implement policies and staff training to ensure the safety and fair treatment of transgender students in Hawaii public schools.
Kumu and cultural practitioner Hinaleimoana Wong-Kalu, a transgender woman, said the lack of clear guidelines for school leaders has led to some transgender students being discriminated against, bullied and harassed in school.
"We have some very simple requests … and that is that consistent guidelines be established so that students of all genders are not only treated fairly, but feel safe, feel valued and feel appreciated in whatever school that they are in," she said.
Wong-Kalu and a small group of supporters that included transgender students and their mothers gathered Tuesday at the Queen Liliuokalani Building downtown, where the Department of Education's central offices are located.
The group delivered a printout of signatures from an online petition seeking a gender diversity policy and training for DOE employees. The petition, which had collected more than 5,400 signatures as of Tuesday afternoon, was handed to Board of Education staff.
"Hawaii is a place of aloha. And when we understand the meaning of aloha, we know that it is incumbent upon each and every one of us as people who call Hawaii home to understand that aloha can and shall prevail," Wong-Kalu said. She was recently named a "Champions of Change" award recipient by the White House but chose to forgo the awards event in Washington, D.C., this week to be at Tuesday's BOE meeting.
Wong-Kalu credited the experience of a recent Kahuku High &Intermediate graduate for prompting the petition. The former student maintains that she was denied the opportunity to participate as a woman in commencement exercises last spring.
DOE spokeswoman Donalyn Dela Cruz said the allegations are false. Under BOE policy, graduates can be denied participation in commencement exercises only if they fail to meet academic requirements by a set date, fail to pay financial debts by a set date or fail to meet other reasonable conditions set by the DOE, such as not violating student misconduct rules.
Dela Cruz said the DOE has drafted proposed guidelines aimed at helping schools provide appropriate support for transgender students. She said existing BOE policies prohibit the harassment, bullying and discrimination of any student on the basis of race, color, national origin, sex, physical or mental disability, religion, gender identity and expression, socioeconomic status, physical appearance and characteristic, and sexual orientation.
"What's in practice right now when it comes to transgender students is administrators work with the student on a case-by-case basis," Dela Cruz said. "The new guidance is really to provide an overview of the common issues that have been raised and the concerns that need to be addressed, as well as providing appropriate supports for transgender students and the school community."
The guidelines — which took six months to draft and are currently under review by the state attorney general's office — will cover such topics as access to bathrooms and other sex-segregated facilities, sports, preferred names and pronouns, and school records.
"It comes down to what the student feels comfortable with, and that's why you can't have a cookie-cutter-type guideline or policy, because our concern is each and every student," Dela Cruz said. "The guidance goes beyond just what bathroom will the student be using. It's ultimately ensuring that steps to support the student will take place at all levels."
The DOE is scheduled to present the guidelines to the BOE's Student Achievement Committee next month, and is looking to implement the guidance and training next school year. BOE member Patricia Halagao, who chairs that committee, told Wong-Kalu that the issue is top of mind and being carefully considered.
"We are prepared to avail ourselves," Wong-Kalu told the BOE. "We also come with … other resources within our community to support you to the fullest of our ability in coming up with that which is necessary — guidelines and anything else that would aid in supporting our youth."