It Gets Better for Kumu Hina at Kamehameha Schools

March 30, 2016:
Twenty-six years ago, Collin Wong was a timid young Kamehameha Schools student who was teased and tormented for being "too girlish." Back then, long before we had reached the "transgender tipping point," there wasn't a place for students like Collin, and no teacher to offer guidance on what was considered a controversial topic better ignored than embraced.
But Collin was fortunate to find safety, and inspiration, in studying Hawaiian language, culture and music, a realm at Kamehameha where students were judged not for their gender expression but for their dedication and accomplishments. With the encouragement and tutelage of acclaimed kumu such as Randie Fong and Holoua Stender, Collin excelled, leading his junior class chorus and, as a senior, chanting his own composition at the legendary annual school Song Contest.
Three years later, Collin transitioned to Hinaleimoana, and began her pursuit of a life of teaching, community service, and passing on the true meaning of aloha: love, honor and respect for all. One of her innovations as a K-12 teacher, or kumu, at a Hawaiian-focused public charter school in Honolulu, was to create a place and nomenclature, based on cultural tradition, that explicitly recognizes students who are "in the middle" - somewhere between male and female on the gender spectrum.
Instead of being ignored or ridiculed, these "kane-wahine" and "wahine-kane" - terms coined by Hina to acknowledge and honor the presence of both feminine and masculine spirits in her students - are expected to excel – not despite who they are, but precisely because of it.
Two weeks ago, Hina's journey came full circle when she was invited to the Kamehameha Schools Song Contest to watch the students perform her original composition Ku'u Ha'aheo e Ku'u Hawai'i - Stand Tall My Hawai'i. This stirring anthem has become a symbol of today's Hawaiian movement for sovereignty and self-determination – a movement that, thanks largely to Hina's work, increasingly recognizes Hawaii's tradition of gender diversity and inclusiveness as an important component of the quest for a better world.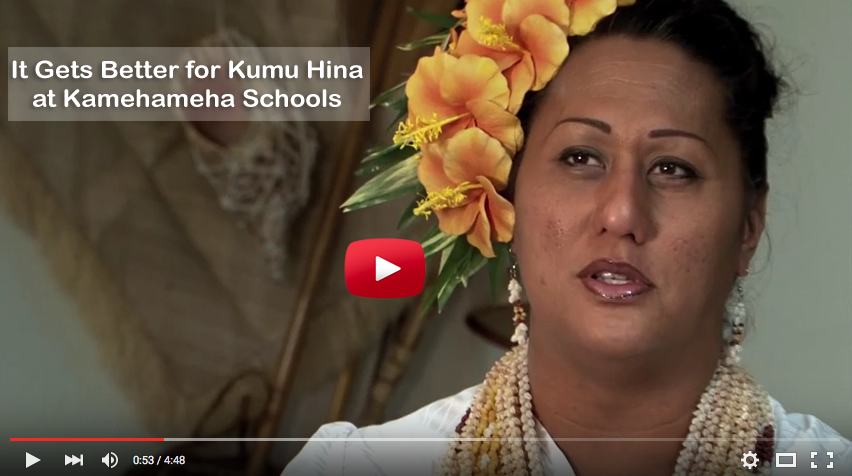 Hina will return to Kamehameha Schools on April 6 for a screening, at the Ka'iwakiloumoku Hawaiian Cultural Center, of A Place in the Middle – a short film that we produced, based on our PBS feature documentary Kumu Hina, to make Hina's uniquely Hawaiian style of teaching available to students, educators, families and communities everywhere – including in Hawaii's public schools, which are having difficulty grappling with these issues. In addition to a lively talk story, attendees will be able to get free copies of the educational toolkit, and be treated to a live performance of Hina's mele.
And in July, Hina will travel to Washington D.C. to receive this year's Ellison S. Onizuka Memorial Award from the National Education Association, honoring her contributions to improving educational opportunities and advancing the achievement of equal opportunity for Asians and Pacific Islanders.
Hina's experiences as a young person could have made her bitter, but instead the cultural foundation she developed at Kamehameha Schools made her stronger. It's fitting that she is returning there with a body of work and teaching method rooted in the very culture and philosophy that saved her so long ago. It does get better - particularly when one is treated with, and lives by, the spirit of aloha.